"A crisis is a terrible thing to waste" – Paul Romer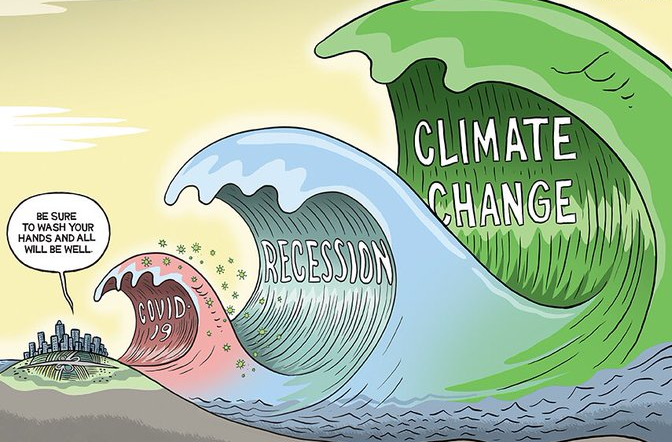 In every crisis there is opportunity. The past year and a half have been dominated by the COVID-19 crisis, which has mobilised practically all resources and priorities across the globe. Despite the urgency of the pandemic, we cannot forget the seriousness of the climate change crisis. We have all witnessed the ever-increasing impact of Climate Change (i.e. heatwaves, forest fires, droughts and floods), each incident yet another warning of the increasing climate change chaos and large-scale global suffering that humanity faces. There has been a tendency to ignore the climate change crisis in order to face the more pressing concern of COVID-19. Instead of treating them as two separate problems, perhaps we could find synergies between the two. In point of fact, global emissions fell by 6-7% in 2020 (Financial Times, 2020)1, when most countries were under lockdown and the world witnessed a global reduction in human activity. The widely enforced lockdowns have given us a glimpse of what is possible when carbon emissions are drastically reduced, providing a glimmer of hope for a more sustainable future.
As students and members of Junior Entreprise Genève, we brought our innovative, entrepreneurship and practical mindsets to the above-mentioned concerns. Within the movement, we strongly believe that each and every one of us is responsible for building the future we wish to live in. We took it upon ourselves to investigate how we, as well as society as a whole, could turn the recovery from the pandemic into a golden opportunity to build a more sustainable future; here's what we found.
During lockdown, a large majority of society changed their transport habits, mostly due to the work from home trend. When people did travel or commute, they avoided public transport, encouraging an increase in walking and biking, but also in the usage of private cars. In order to encourage the soft mobility trend further, policy changes may be needed to incite society in this direction. We could mention subsidies for public transport, but an interesting and more pertinent solution is the installation of correct infrastructure such as "expanding bike lanes and making it more comfortable and practical to use bikes" (M. Pellizzari, 2021). 
Perhaps these ideas could push us to think more about car-free cities, which offer not only positive climate change effects in terms of reduced air pollution, but also encourage healthier lifestyles with increased walking and less noise. Congestion charges also present an interesting solution but come with negative side-effects such as increased inequalities or negative effects on the housing market. M. Pellizzari believes that for such a tool to be efficient, it needs to compensate for the inequalities created with the revenues generated from the congestion charge (M. Pellizzari, 2021)2. 
The pandemic has given us two critical opportunities when it comes to the worldwide labour force. First, the pandemic has forced extensive advances in terms of technology usage. Indeed, the work from home trend forced basically everyone to work digitally. The use of automation, robotics and artificial intelligence (AI) has grown by 30% since March 2020, according to industry body Technology Connected. AI has been implemented in many factories as a result of people not being able to go to work, in order to help with reduced numbers of staff as well as social distancing measures. There are two sides to this coin; we can use AI to keep production growing, however, we must also make sure we are reskilling the employees whose jobs are replaced by AI. 
Second, the pandemic has encouraged the rethinking of our working ways and the opportunity to discover new ones. The transition to teleworking has allowed employees to re-establish the speed and rhythm of their lives. Post-Covid, most employees want more flexible work arrangements, hybrid work weeks, with some days in the office and some days at home, allowing for healthier work-life balances. 
3. Food and supply chains
The COVID-19 pandemic also had a significant impact on agriculture and its supply chains. Border closures have meant that on the one hand, there have been shortages in the world because trade between countries has been restricted. But on the other hand, people consumed more locally produced goods. Through the toilet paper panic, it might be thought that our supply chains were weak and needed reinforcing. However, we witnessed almost fully stocked shelves during the pandemic, especially in Europe, proving that our supply chains are, in reality, very reliable. We also witnessed that where there were shortages (i.e. face masks, disinfectant gel), manufacturers adapted and production quickly increased to respond to society's needs. 
Finally, the pandemic may sensitize humanity to low-consumption lifestyles and work patterns, encouraging us not just to commute and travel less, but also to reconsider our lifestyles and working methods. Finally, it could allow us to gain confidence in our supply chains but also our society as a whole. Obviously, the circumstances surrounding COVID-19 were not ideal, but the quick and decisive acts we witnessed are inspiring examples of mutual aid that also demonstrate that society is more than capable of acting together in the face of danger to humanity as a whole. We encourage everyone to think about the society they wish to live in in the future; each and every one of us is responsible for building the future we wish to live in. 
How can the J7 help clients turn crises into opportunities? 
The J7 is a coalition of seven of the best Junior Enterprises in Europe, each composed of members coming from varied backgrounds. Based on our diversified qualities, as well as our youthful yet informed mindsets, we are able to offer innovative and creative solutions to any challenge posed before us. Through passion, excellence and entrepreneurship, we are highly motivated to play an active role in building the world of the future. We invite you to let the J7 accompany you in your projects and challenges as we create the future.
"Through passion, excellence and entrepreneurship, we are highly motivated to play an active role in building the world of the future." – Junior Entreprise Genève
Watch the full round table here: https://mediaserver.unige.ch/play/VN4-2859-2020-2021
Author: Lucine Flett, 10 October 2021
1 Hodgson, C. (2021, March 2). Global carbon emissions rebound to pre-lockdown levels. Financial Times. Retrieved October 6, 2021, from https://www.ft.com/content/600ad91f-79d4-451c-97c1-ab9a0daf4d3e.
2 Pellizzari, M. (n.d.). Covid & Climate Round Table, Junior Entreprise Genève & Université de Genève. Retrieved from https://www.unige.ch/gsem/en/about/news-events/news/2021/roundtable-covid19-climate/.